The dolphin sculpture sits on a promontory in Portsoy on the Aberdeenshire coast. Portsoy is a small harbour town but with imposing 18th century buildings on the quayside. You can see the dolphin on the horizon here.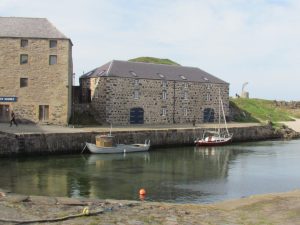 Not far away is Cawdor with a typical Scottish castle – all towers and turrets and a drawbridge too. The interior is less forbidding and here's a bedspread to prove it.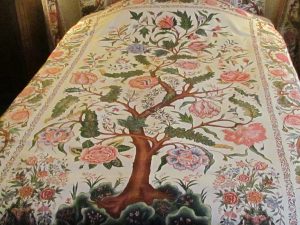 Also not far from here in Elgin is the Glen Moray distillery, one of a dozen or more in the region. Though owned by Chivas Regal, a French firm, everything seems quintessentially Scottish-whisky-ish, including the aromas and, of course, the taste.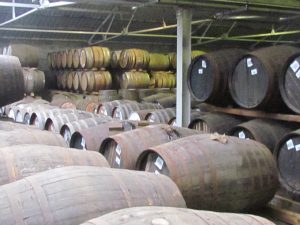 In the heart of Speyside is Leith Hall Garden, well off the beaten track but well worth a visit. A varied garden managing the sloping terrain well. It has its eccentricities, including a collection of millstones and a cat unimpressed by an angel.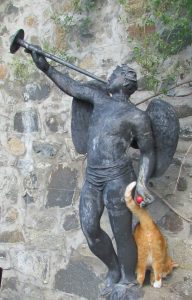 Further south we revisited Drummond Castle gardens, one of the most spectacular formal gardens anywhere. Not usually keen on formal gardens, we found this one won us over.once again. Breathtaking views from the terrace: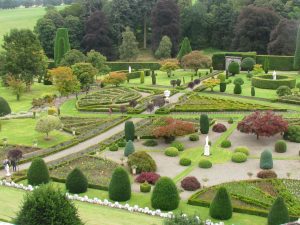 And among the trees and shrubs, borders and hedges, the biggest ice cream cone you've ever seen.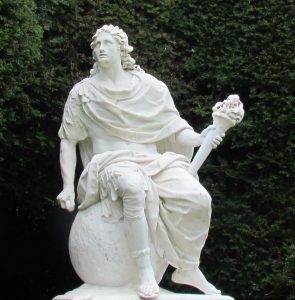 Even further south I was surprised to find, by the side of a loch in the middle of not very much, a statue honouring James Hogg, the Ettrick Shepherd, poet and author of 'The Private Memoirs and Confessions of a Justified Sinner', a novel I read several years ago.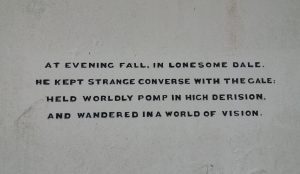 And finally, another notice, this time on a campsite. To which the response must be: 'I find so many are.'