The first live concert for months! Snake Davis, virtuoso sax and flute player, with Helen Watson, superb vocalist. Not the Ropewalk this time but an unusual venue: the land behind Wootton village hall. Heavy rain held off until the last couple of numbers were due. The intermittent raspberry from an amp or mic signalled a wet but cheery end.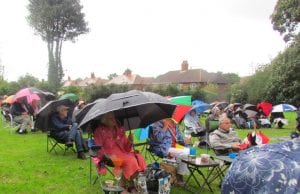 Sunnier weather for the trip to Doddngton where their annual sculpture exhibition is just the right kind of thing for a socially distanced time. So much variety…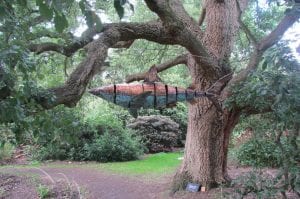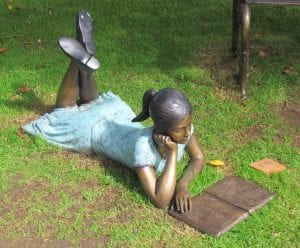 From a shark in a tree to a girl intent on her book…and a world inverted: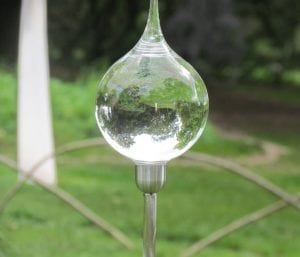 And so back to Wootton, where in spite of the odd drop of rain, play was not interrupted. Snake this time with Chris Bannister, singer with a great Don Mclean kind of voice. And a different gazebo – perhaps more waterproof.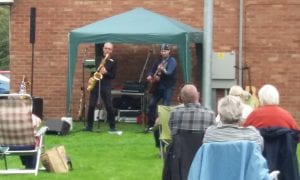 PS – a sonnet for Snake and Helen;
Singing in the rain's all very well
Until your amp or mic gets wet.
You can call on British pluck and yet
It won't bring sunshine like a magic spell.
Is that thunder or is that loud applause?
The brollies popping up like giant toadstools
Aren't raised by mad dogs but we English fools
Tempted out beneath the heavy clouds because
There's music in the field by Wootton Hall
And folk have come with macs from far and near
Regardless of the forecasts that they hear.
And until the final downpour falls
Snake and Helen – the troupers that they are –
Still sing on until the very last 'Huzzah!'