Mouse and Muse: Trevor's Website
Trevor is a writer of… poetry for children and adults, short stories, a novel, books of local interest, education resources.
Latest book: 'Son of the Secret Gardener', the story of his grandfather, gardener to Frances Hodgson Burnett, and of his father's time working in some of the gardens of great houses, about which he kept fascinating detailed diaries..
He regularly performs and collaborates with Dez Allenby and Frances Kelly as 'Three Voices'. at The Ropewalk in Barton-upon-Humber.
An overview of things I've written over the years, divided into Stories & Plays, Non-fiction and Poetry.
A small publishing venture which specialises in, yes, small books. We hope each one is as pleasing to look at as to read.
Songs and/or poems with music arranged and recorded by The Brollies, by Dez Allenby and myself.
Why Mouse and Muse?
The Mouse and Muse site is a bit like a virtual cupboard – but one which I can keep tidier than most real cupboards. I'm using it to store information about my writing and other work as well as taking the opportunity to keep a blog, when I feel like it. 'The Mouse and the Muse' was the title of a book I wrote many years ago to explore the creative use of computer technology in the teaching of English. It seems a neat way to combine the technical with the imaginative, so I've hung on to it.
Get in touch today
All enquiries welcome
Trev's Blog
Some reflections on books and writing as well as some interesting people and places.
This replaces the 'Mouse and Muse too' blog and starts afresh!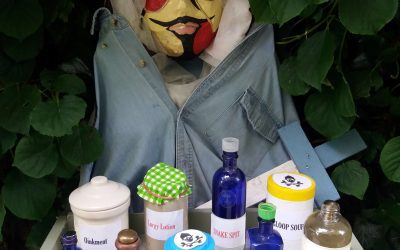 The 12th Annual Wheelbarrow Weekend just went by. My entry doesn't much like a barrow but it is one - or, at least, the remains of one. After the bottom rusted away all I was left with was a skeleton - and here he is with a few lotions and potions to tempt you. Oil of...
read more