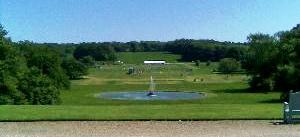 The grand windows of the magnificent library-cum-gallery look onto a fine view from which Capability Brown's design removed all signs of habitation. Sledmere village was moved slightly to one side…
It happened to be 'Dog Fun Day' at Sledmere when we visited this weekend, so we were able to view 'Musical Dog Chairs' and the 'Great Sausage Challenge' from the upstairs windows.  Sledmere has had its share of  idiosyncratic owners in the past and we wondered how the 5th Baronet Sir Tatton Sykes, for example, would have viewed the canine capers.
Lovely though the library is, especially with the tones of an organ recital in the background, it's a shame that there are no books available to browse (unlike at Burton Agnes).  However, the sumptuous Turkish Room with its blue iznik style tiles is worth a visit on its own.