The 12th Annual Wheelbarrow Weekend just went by. My entry doesn't much like a barrow but it is one – or, at least, the remains of one. After the bottom rusted away all I was left with was a skeleton – and here he is with a few lotions and potions to tempt you. Oil of Goolay, anyone?
Sylv's barrow celebrates swifts. Her two terracotta plaques show the house and garden and it's under the pantiles that swifts return each year. That is usually the sign of summer beginning but here in North Lincolnshire the sun has been behind the clouds for most days recently.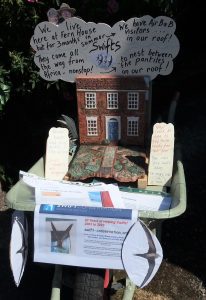 Over sixty wheelbarrows graced our streets and lanes and there were a good number of open gardens, including ours. This photo makes it look much grander than it is.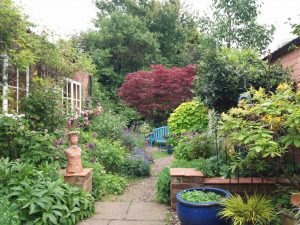 Happy to see the ship / barrow of friends winning first prize: